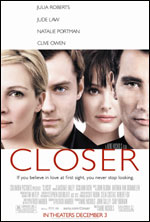 Dir: Mike Nichols
2004
If there was a cartoony graphic for Closer on the movie poster, instead of the pretty typical glossy shots of the stars lined up like bowling pins, I would suggest this: A circle of four people, male, female, male, female, each with a knife stuck in the next person's heart.
That pretty much sums up this gloomy examination of honesty and infidelity my Mike Nichols, directing an adaptation of Patrick Marber's play. Dan (Jude Law) falls in love wtih Alice (Natalie Portman), a visiting American tourist to London, while also wanting to sleep with a more mature photographer, Anna (Julia Roberts, smile still in lockdown since Ocean's 11). But a practical joke winds up throwing Larry (Clive Owen) into Anna's arms instead. Let the honesty and bitterness begin!
Closer is a film/play where the characters speak their mind, then wonder why they suffer from the consequences of a fickle emotional core that won't let them commit or even enjoy what they have. It's human relationships infected with the emptiness of 21st century consumerism, where desire is all and attainment is crushing and debilitating. It makes sense, then, that after everything has fallen apart (for the 20th time) Larry finds Alice working at a strip club, where desire is for purchase and absolutely nothing is left after the transaction. We do discover later, ironically, that Alice (or Jane, as she calls herself) is actually telling the truth for once in this scene, but in this environment, the message can't be heard.
It's a very cruel film, but it does show Owen's range as an actor, for his Larry is the most complex character of the quartet. I was beginning to doubt him after his blank stare performance in I'll Sleep When I'm Dead. Natalie Portman, who I've also read described as "icy", gives a good performance, though I couldn't stop looking at her face and wondering if she'd had plastic surgery. There was something off with her mouth and cheeks. Say it ain't so, Natalie!
Jude Law is very good at playing a cad, though a cad who crumbles easily (he did so later in I Heart Huckabees). And Julia Roberts was equal amounts strength and weakness. I wouldn't mind reading the play after this, though I'm not too sure when and if I'd want to watch the film again, as it really is a joyless piece. There's an overview and review of the play here.
(Visited 48 times, 1 visits today)