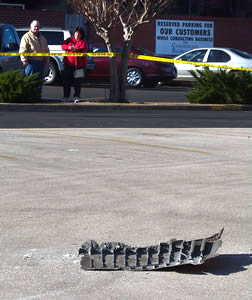 Hmm, a piece of the shuttle. Do I:
a) Touch it and gain superhuman strength?
or
b) Sell it on eBay?
or
c) Die later of a strange, outerspace flesh-eating virus?

Order up another 2,000 rolls of police tape because, as NBC News and other outlets are putting it, the National Guard are treating the shuttle debris as "one big crime scene."
No doubt that the pieces are quite toxic. And no doubt that some dumbass (link surely to come) will touch it, thinking they will be turned into a cool superhero or something. But compare the attitude to this mystery to the biggest crime in recent memory, 9.11.2001. They couldn't wait to get that wreckage carted off and destroyed, which it was, laying to rest any chance of truly investigating what happened that day. Whoops! How convenient.
Also, no doubt that some loonball conspiracy theorist will see some organization's hand in yesterday's disaster, especially seeings the shuttle contained an Israeli and blew up over a Texas town called Palestine. Oh, the irony! Surely, it's a message!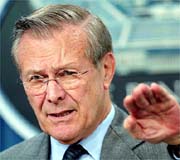 Ize just can't stop da sieg heil!
But talking about conspiracies, The Memory Hole has this fascinating slip by Rumsfeld in an innocuous interview for Parade Magazine.
"It is a truth that a terrorist can attack any time, any place, using any technique and it's physically impossible to defend at every time and every place against every conceivable technique. Here we're talking about plastic knives and using an American Airlines flight filed with our citizens, and the missile to damage this building and similar (inaudible) that damaged the World Trade Center. The only way to deal with this problem is by taking the battle to the terrorists, wherever they are, and dealing with them."
Missile? That damaged the Pentagon? Wasn't it supposed to be an airplane?
Ah, the mystery goes on…