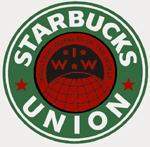 I had no idea, but this is the third Starbucks that is attempting to be unionized. Plus I really just wanted to include the cool graphic.
Workers at Third U.S. Starbucks Go Union
New York, NY – 25 Starbucks baristas and supporters wearing union pins and hats surrounded the store manager at the Union Square location in Manhattan tonight to announce their membership in the IWW Starbucks Workers Union (www.starbucksunion.org). The workers, joined by union baristas from two other New York Starbucks stores, demanded a guaranteed minimum of 30 hours of work per week and an end to Starbucks' unlawful anti-union campaign. The Union will assail Starbucks with a wide array of actions until the demands are met.
To me the odd thing is reading the ages of the workers–twenty-three, twenty-six…it just doesn't seem like the age to join a union. But maybe that's what years of demonization of unions have done to us.
By way of the cool new blog, The Consumerist.