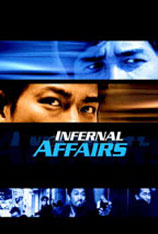 Dirs: Andrew Lau and Alan Mak
2004
Infernal Affairs was the big HK blockbuster of 2002, and unsurprisingly enough, it still hasn't opened here (except for the big cities), so when I saw it in Taiwan, I bought it, 2-DVD version too.
Andy Lau plays a cop who is secretly a Triad spy. Tony Leung plays a Triad member who is secretly a police mole (but for so long he's perhaps crossed the line). Though we are informed they trained long ago at the academy, neither knows of each others' existence until Lau's character goes into the audio shop where Leung's character works to buy some speakers. To each other they're just regular guys. This, among other twists in this revved up genre flick, will also be the last time they meet until the end.
With such a simple premise that offers such complex conflicts (both men are suffering crises of character and identity) directors Andrew Lau and Alan Mak speed things along until it's hard to know exactly how either character will react. On the other hand the speed also undoes the finale, which resolves itself too quickly for my tastes. (There is an alternative ending which I have yet to watch.) It's not that I couldn't figure it out, just that the pace feels wrong.
Andy Lau is again good in this film, two in a row. When he's playing these sort of characters (authortarian types who may just be traitors–as in Flying Daggers) he's fine. When it's comedy or romance, he comes up short. Tony Leung's world-weary character, beaten down for years on an undercover assignment that will never end, walks through the film, skulking but sympathetic. When he salutes his commanding officer's passing funeral procession, hidden down an alley so nobody can see him, we fully understand his sad situation.
The double-DVD contains making-ofs, trailers, and other goodies, but all are in Chinese.
(Visited 20 times, 1 visits today)